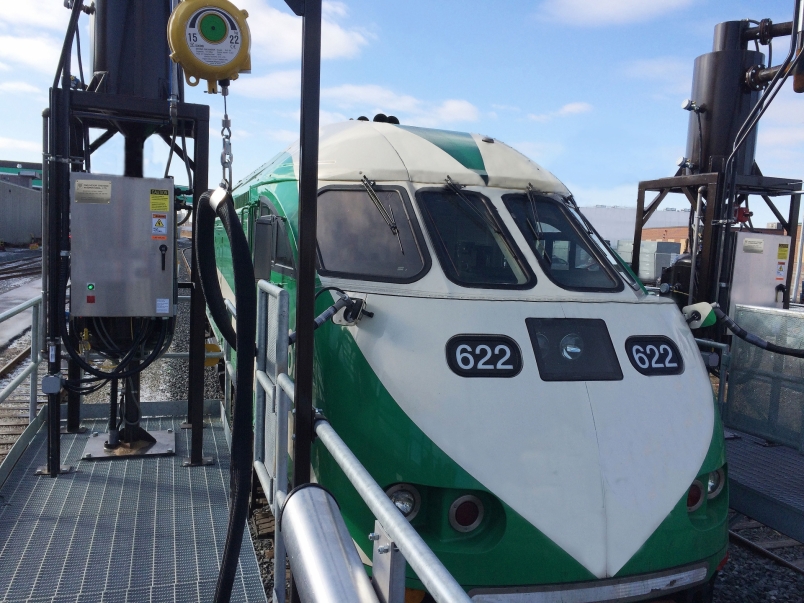 Pneuveyor Systems provides custom designed and manufactured systems for locomotive and light rail sanding. From gravity fill systems, pressure sanding systems and portable sanding systems Pneuveyor can provide a solution to suit your needs.
We offer the latest in high pressure, low velocity conveying. The system is accompanied by a dust collection system to ensure that no harmful dust is present while the operator is filling locomotives or light rail vehicles. With 25 ft. of flexible filling hose, it provides some freedom in the final parked location of the locomotive or LRTV. Filling rates up to 90 lbs/min ensure that the vehicles are filled quickly and will not hold up any other vehicle maintenance.
Pneuveyor can provide retro fit solutions for existing systems. Many rail maintenance facilities have a sanding system in place, often a gravity tower or day-bins from a storage silo. Pneuveyor can help custom design a solution that will minimize modifications and costs.
Pneuveyor Systems has an answer for all your portable sanding needs. We offer two standard portable designs; a road ready trailer with a GVW of 14,000 lbs equipped with a diesel generator for complete stand-alone operation and a manually operated indoor unit for smaller sanding applications.